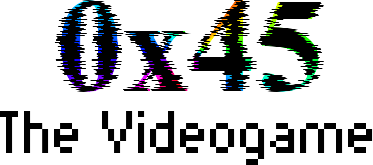 0x45 The Videogame
drei... dva... one... Launch!
---
0x45 has launched on itch.io!
I know, it's not very spectacular at the moment, but I figured I might as well "release" the game while I'm working on it. It's been my passion project for the last couple of weeks and I really enjoy working on it, so I hope people find enjoyment in playing it as well.
Some questions and maybe answers(?)
Is the title final? -No.
Your textures look really nice! Who made them? -I originally used to make all of them before my friend @PixelABCD saw what a horrible mess I was making and offered to help. Now almost all the original textures are replaced with his new, vibrant ones. Check him out, he makes cool games!

Who are you? -Check my itch.io profile.
Why are you using Godot Engine? -It's easy to use and is free really lightweight.

Is there a trailer or a gameplay video I can watch? -There's an old one from version 0.0.3 I believe, but nothing since then. Will make a new one soon (promise).

Why are you ripping off Terra-

Ok cool guys thanks bye.